Custom Shower Doors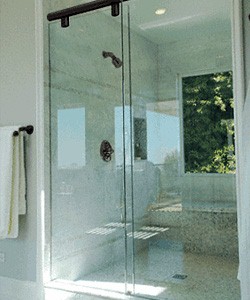 Martinez Glass offers the innovative "all-glass" frameless looks and the newest hardware including: • Hydro-slide hardware virtually eliminating any visible hardware and allowing the use of 3/8" thick glass. • Serenity and pipeline designs offering innovative exposed wheels and tracks. • Curved sliding glass walls that wrap the shower enclosure.
Let us show how we can make our Shower Doors the most talked about elements in your home.
We start the process by evaluating your space in your home. Our design staff will work with you to provide a design and layout that maximizes the look and functionality of your entire bathroom.
Because of our expertise, we can offer design ideas and dramatic touches our competitors would simply never consider.